2021 Brotherhood of St Andrew Scholarship Winner ($2000)
EMILY SHARP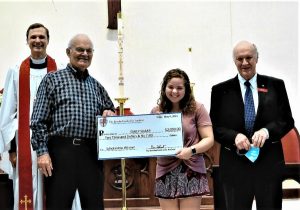 Picture are: 1. Clergy Rev. Jimmy Abbot 2. Texas Assembly Vice President Dan Brast 3. Ms. Emily Sharp 4. Chris Matthew, Holy Comforter Brotherhood Chapter President.
Ms. Emily Sharp is the winner of the $2,000 2021 Brotherhood Scholarship.
Emily plans to attend Texas A&M in the 2021 Fall.
The annual scholarship is made possible from the proceeds of the successful annual Brotherhood of St. Andrew Golf Tournament.
For Application, Rules, and Brochure